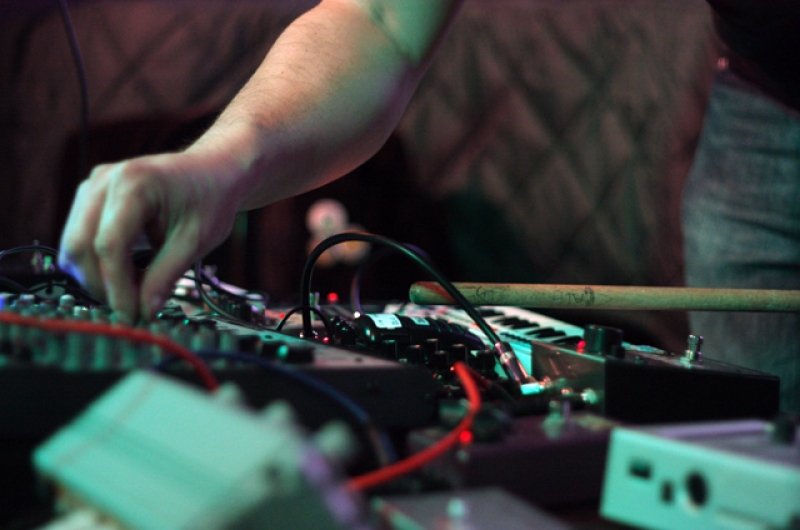 Ekoplekz
Very excited to have here for your aural stimulation Ekoplekz, a Bristol based producer who specialises in improvised audio experiments that are performed completely live using a multitude of analogue effects, drum machines and filters.
Becoming ever popular amongst the electronic, dubstep and soundsystem scene, it is a wondrous experience as his deep dub bass is fused with almost tribal rhythms, comprised purely of analogue distortion. Echoing bleeps and drones add additional atmosphere and Ekoplekz even serves up a rare moment of melody
Imagine if you like, the earlier works of Cabaret Voltaire and Public Image Limited being stripped apart and remixed by some dusty muso who spends long periods alone in the BBC Radiophonic workshop.
facebook.com/ekofidelity?fref=ts
Dead Sea Apes
Hailing from over the border in Manchester, Dead Sea Apes are a force to be reckoned with as this three piece set the controls for infinity that launches the listener on a journey into deepest space.
There are moments of cinematic soundscapes nestled amongst their atmospheric psychedelia as each song builds layer upon layer of heavy dubbed out, tripped out drone, kraut rock and at times, a brooding nod to dark wave post punk
http://deadseaapes.bandcamp.com/
Nope
Inspired by the primitive sludge that has been dredged from the River Aire following the collapse of the industrial world in 2068. The heavily rhythmic backbone of two drummers and the kraut rock inspired music of Nope further hints at shoegaze and drone elements as they attempt to convey the pace of life experienced that is on the cusp of the birth of the machine age.
They are equal parts spinning jenny, nano technology and undiscovered bio-fuel.
obscenebabyauction.bandcamp.com/album/revision
Sophie Cooper
Mellow, ethereal and hauntingly beautiful are the words that spring to mind with the compositions penned by singer songwriter Sophie Cooper.
Inspired by psychedelia, white noise and dream pop, let yourself be overwhelmed with her personal stories of both sadness, joy and all of those emotions inbetween.
---