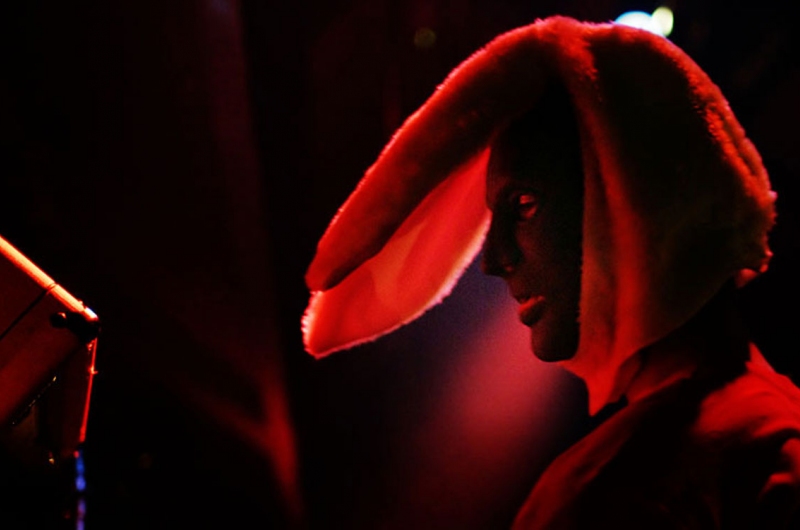 Shit And Shine
An amalgamation of madness may be one cute description for Shit And Shine who are playing but a handful of dates here in the UK.
With an ever revolving door of musicians, this US / UK band perform a dazzling and rhythmic smorgasbord of tunes that are electronica at their core yet with an accompaniment of multi drummers which adds a further eclectic twist to their sonic combustion.
Shit And Shine have been excessively busy since 2004 pumping out a whole plethora of releases, often imaginatively titled and often with compositions that don't stop until they've hit the forty minute mark.
Come and witness them (nearly) destroying Golden Cabinet and all who sail in her.

Dwellings
Chris Haslam (from the mighty Gnod) is the main man behind Dwellings.
Producing writhing, staccato and mechanized patterns from a Vermona DRM analog drum machine which is then harnessed with scathing synth shapes, a heavy slice of dub and claustrophobic clouds of drone.
Add to that a brooding techno rhythm and moments of dark apocalyptic ambience are further forays into a netherworld of music brutality as portrayed on the "Don't Say Nothing" cassette which was recently released on the Tesla Tapes label.

teslatapes.bandcamp.com
Cattle
The aural equivalent of a runaway bulldozer. Massive low end rumblings with a bludgeoning barrage of noise rock and sludge that has been hurled into the murky slurry pit of life.

cattle.bandcamp.com
---