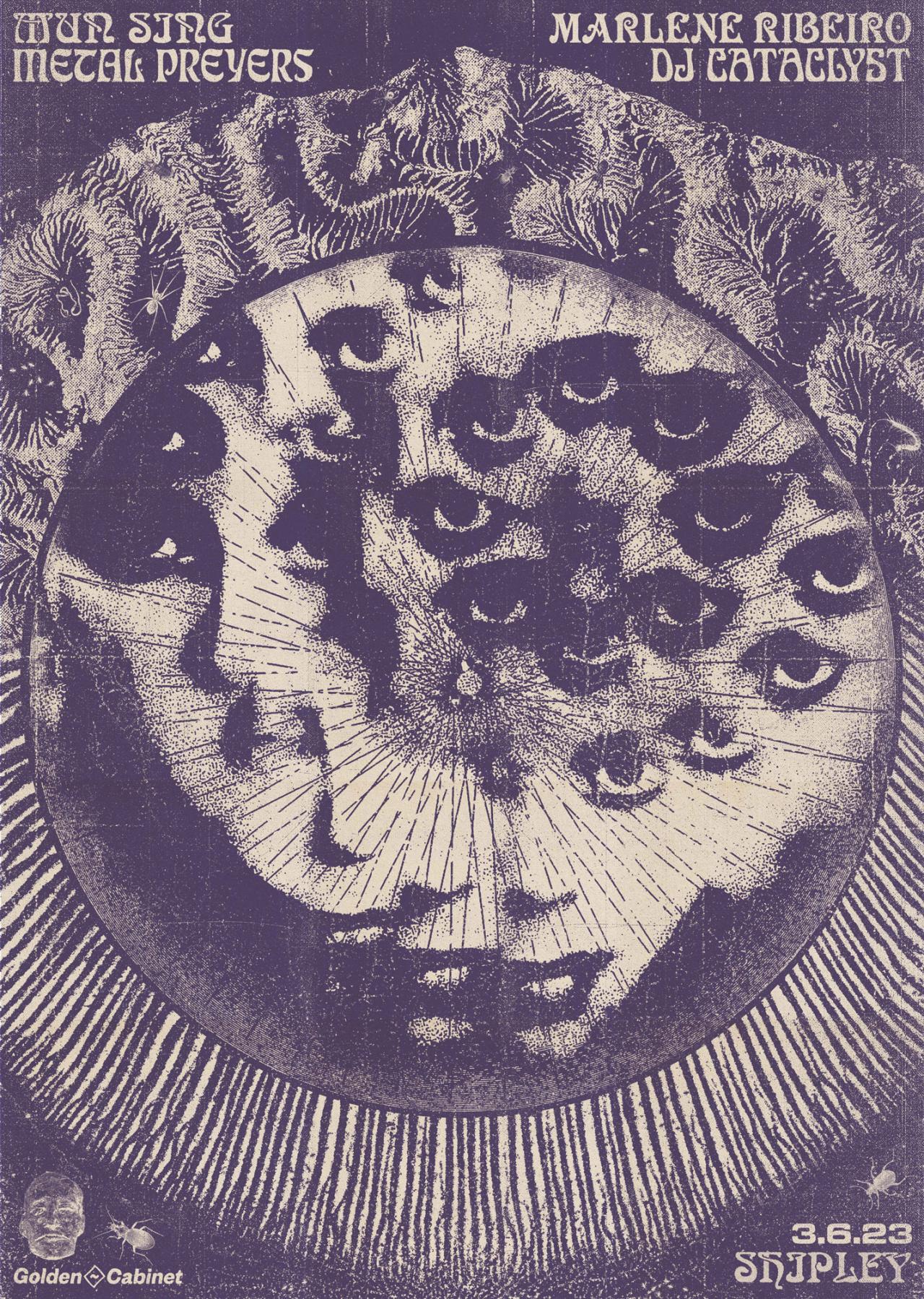 Mun Sing
When he's not tearing shit up as part of Bristol's savage experimental techno duo Giant Swan, Harry Wright is contorting bodies and twisting minds in solo mode as Mun Sing. His sound is a deluge of raw, explosive, scuzzy distorted percussion and heavily reverberating, cascading metallic clanging. Harry unleashes visceral, brutal and futuristic techno/grime mongrel rhythms - an intense sonic attack of punishing, skull-rattling drum machine convulsions, coruscating dissonant noise, mangled and warped vocal samples and vicious feral electronic detonations. Recorded output has come via the Infinite Machine label and Shanghai's SVBKVLT imprint, and he's garnered a notorious reputation for absolutely slaying it live. Are you ready to be eviscerated?
Marlene Ribeiro
Marlene Ribeiro is no stranger to Golden Cabinet, having played for us eight years ago under her Negra Branca moniker, and multiple times as part of psychedelic noise punks GNOD. More recently, she put out the stunning 'Due Matte' album alongside Valentina Magaletti of Tomaga/Moin and has just released her first solo album under her own name - the beautifully transcendent, experimental psychedelic dream-pop of 'Toquei No Sol' on Rocket Recordings. It's a record perfect for exploring both inner and outer space and has drawn comparisons with Panda Bear, Pocahaunted, and My Bloody Valentine. The album's title translates as 'I Touched The Sun' and is a gorgeous, kaleidoscopic work filled with earthly tropical warmth and magickal, soul-nourishing celestial light. It's a sound which hypnotises with lush melodies, an array of exotic instruments, mesmerising loops and bewitching vocal incantations. Marlene's deeply optimistic music feels like it's been beamed down to heal this broken world, and we're totally here for it.
Metal Preyers
Just when you think there isn't an original idea remaining in the known universe, along come Metal Preyers and blow that theory clean out the water. We've been spinning their remarkably unique records since they emerged in 2020, and at this point, they've released four vital albums on Uganda's Nyege Nyege Tapes label. A mysterious, loose collective with a striking, often ghoulish visual identity, rotating around core members Jesse Hackett and Chicago's Mariano Chavez, Metal Preyers are not bound to any genre and are unrestrained by geographic borders. Their shapeshifting outernational sound defies categorisation, incorporating elements of DIY cut & paste post-punk, traditional African music, industrial, and arcane/occult rituals. However, their latest album 'Shadow Swamp' took a further swerve into the unexpected - a melting pot of astonishing ideas, creativity and cross-pollination that twists up influences from Czech new wave cinema soundtracks, chopped & screwed hip hop, noise, and creepy lounge music. Listening is to wander inside a nightmarish, unnerving fairytale realm inhabited by strange creatures and peculiar entities and their haunted subliminal vocal transmissions from beyond. After listening we almost feel like we've been put under some sort of spell or curse, such is the power and authenticity of Metal Preyers' astonishing world-building.
---